Main Menu
Genmyoan Cafe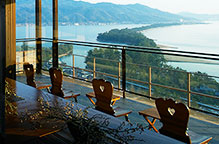 With our matchless view, what better place for a steaming, well-brewed cup of coffee or tea? ¥500 a cup -- call ahead please
Privacy Policy
Enacted May 20, 2012. Last Updated: May 20, 2012.
Principles of personal information protection
"Amanohashidate Genmyoan" (hereinafter, the hotel), in order to deal with the personal information entrusted to us in the course of our business activities, has bound its officers and employees to comply with a strict Privacy Code of Conduct, outlined below.
Our basic principle is that the hotel does not use personal information beyond what is necessary to achieve such business purposes as the customer can expect and be informed of in advance.
Measures for internal information control
The hotel will implement the following policies to promote the proper handling of personal information.
Have in place internal policies governing the forms and scope of personal information appropriate for carrying out the business of the hotel, and how such personal information is handled by the staff.
Establish measures to prevent leaks or unauthorized disclosures of personal information, and to remedy the effects should such disclosures occur.
Appoint a "personal information administrator" to ensure compliance with internal regulations.
Conduct training at least once a year on the handling of personal information for all employees, including officers.
Conduct an audit at least once a year on the status of its internal rules and compliance, and of inspection procedures.
Work to continuously improve the internal management system for the protection of personal information.
Acquisition and use of personal information
Purposes for use
The hotel will use information directly given to us by our clients solely for the business purposes for which it was intended. Personal information otherwise obtained shall be used only within the scope described when it is collected or as noted elsewhere within the Privacy Policy.
Provision of personal information is optional
When asked by the hotel to provide information, compliance by the customer is optional.
However, the hotel may not be able to extend service to the customer when certain types of information have not been provided.
Automatically obtained information
The hotel web site keeps records of web site visits and their outcomes through an access log; please note it does not use cookies.
Automatically collected personal data is handled in strict accordance to our security rules.
Third party access to information
The hotel will not provide personal information to third parties beyond what is necessary for conducting the customer�fs business with us, except in one of the following cases.


If the person in question consents to sharing the information.
If disclosing the information is required by legal order.
When it is necessary for protecting from injury the property or person of a member of the public, and consent of the information holder cannot be readily obtained.
When it is necessary for the promotion of public health or the safe development of children, and consent of the information holder cannot be readily obtained.
In cases where it is necessary to cooperate with local or national government agencies in order that they may carry out duties prescribed by law or regulation, particularly in times of emergency.

Access to your personal information
Individuals wishing to know what information has been retained about them may request its disclosure by contacting the administrator of the hotel�fs Privacy Policy.
Requests within a reasonable range and in accordance with such applicable regulations as the Act for Protection of Personal Information shall be acted upon promptly.
Consigning information processing
The hotel, to facilitate business operations, may outsource the processing of some personal information to outside vendors. In such a case, adherence to the hotel�fs privacy control measures shall appear as provisions in the contract with the outside vendors.
Revisions to our Privacy Policy
The hotel, to further protect personal information entrusted to us, may in the future make revisions to this Privacy Policy. In this case, such revisions will be noted in the hotel�fs web site.
For inquiries to the administrator on the handling of personal information,
you may use the following contacts:
Phone (0772) 22-2171
FAX: (0772) 25-1641